Critical Positions & What They Do
Your Graduate Committee
The Graduate Committee makes decisions and recommendations about applicants, graduate students, and the program itself. The Graduate Committee has six principal duties:
to consider applications and recommend admissions to the College of Graduate and Postdoctoral Studies
to recommend students for scholarships and fellowships
to serve as an advisory committee for students who have not yet submitted the thesis proposal (applies to some disciplines)
to consider thesis proposals for approval
to recommend a list of courses for the upcoming year
and more generally to engage in planning for and development of the program
Your Graduate Chair

The Grad Chair is responsible for providing information to, consultation with, and counseling of graduate students, and for admissions, awards, programs, and general administration. Your Grad Chair is also the chair of your department's graduate committee (so represents your department in dealings with the College of Graduate & Postdoctoral Studies), they are usually the chair of your student committee. Together with the Graduate Administrator, the Grad Chair monitors the progress of each student in the program.

The Graduate Administrator

The Graduate Administrator performs several key functions of the program: collecting and preparing information; scheduling meetings, examinations, and workshops and coordinating advisory committees. The Graduate Administrator corresponds with prospective applicants, receives documentation for applications, and ensures that files are circulated among the faculty members of the Graduate Committee towards committee decisions about admission and funding, consults with the Graduate Chair about individual students' programs, and prepares documentation towards dissertation examinations and graduation.

What can a student expect of the Graduate Chair and Graduate Administrator?

Information about courses, areas of supervisory expertise, and procedures for completion of programs.
Advice to students on matching their research interests with those of available faculty.
Consistent monitoring of students' progress.
Encouragement of interaction between students and faculty in social events, seminars, and colloquia.
Clear, fair procedures for examinations, and for scholarship rankings and recommendations.
Arrangements for thesis supervision, including alternate supervision when the regular supervisor is away for extended periods.
Information to international students and their supervisors about current Canada Employment and Immigration regulations so that student visas and employment authorizations (where applicable) are applied for expeditiously and maintained throughout the period of registration in the program.
Distribution of current information about application procedures and deadlines for scholarships and fellowships, and help in applying for funding.
Provision of ways to resolve problems if they arise between graduate students and their supervisors, advisory committees, or seminar leaders.
Information about learned societies in which graduate students are welcome to participate, and advice about seeking funding to give papers at conferences.
University Governance Structure
The Act (1995) establishing the University of Saskatchewan was passed by the Legislative Assembly of the Province on April 3, 1907. The Senate held its first meeting on January 8, 1908, when elections to the Board of Governors were held. In August, 1908 W.C. Murray of Dalhousie University was appointed first President of the University. He continued to hold that office until June 30, 1937. The current President of the University is Peter Stoicheff.
CGPS Governance
The University of Saskatchewan's College of Graduate & Postdoctoral Studies (CGPS) is home to approximately 4000 graduate students enrolled in over 180 graduate diplomas, course & thesis-based masters and doctoral degree programs and is home to over 240 postdoctoral fellows engaged in a diverse and intense research environment.
We are a campus service centre responsible for the collection, maintenance, and distribution of materials on graduate students. We maintain graduate files and administer graduate applications, admissions, comprehensive examinations, thesis examinations, and doctoral/master's defenses. CGPS is also responsible for some registrarial functions, graduate enrolment management, and administers graduate student funding including assistantships, external and internal scholarships, baseline fellowships, and Tri-Agency payments.

The CGPS assists academic units in developing new program proposals and administers their approval. Through our Faculty Council, CGPS provides a forum for representatives from all faculties, schools, and the GSA to discuss matters pertaining to graduate education. The Council ensures maintenance of standards across all graduate programs by considering policies relating to graduate studies, approving regulation changes, receiving reports from standing and ad hoc committees, and makes recommendations on matters affecting graduate studies.
The Graduate Students Association (GSA)
The Graduate Student Association (GSA) is the University of Saskatchewan's Graduate Student union. The executive is voted on every year at around February and March. The GSA are advocates and a resource for you throughout your graduate student experience.
The GSA provides professional, academic, and social activities and services, and promotes awareness of issues relevant to graduate students. All graduate students at the University of Saskatchewan are members of the GSA and have the right to vote in elections, referenda, and at general meetings.
The executive is made up of five positions:
President
Vice-President Finance and Operations
Vice-President Academic and Student Affairs
Vice-President Indigenous Engagement
Vice-President External Affairs
Who to go to for what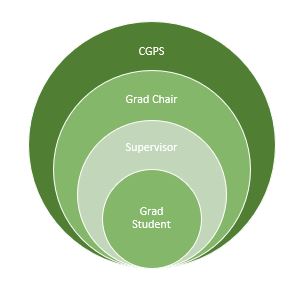 The CGPS provides oversight to all graduate and postdoctoral matters at the University of Saskatchewan. You can go to the CGPS for guidance if you are unsure who to talk to. If you have a complex program, your first point of contact is the CGPS' Associate Dean. We are facilitators in creating partnerships that contribute to USask and CGPS strategies on graduate and postdoctoral studies.
Student Supervisor Relationships are the most important relationship you will have in your graduate program. If you are in a thesis-based program, you and your supervisor will need to complete a student-supervisor agreement.
Your graduate administrator will be a central and key resource for you. Graduate administrators help departments with the administration of your program and are key information resources for students. Find out who your grad admin is.
The Grad Chair serves as the liaison between the home graduate department and the CGPS. They are typically nominated through department determined procedures. As representatives of their department's graduate program the scope of work includes everything grad; from overseeing student recruitment, admissions and the program life cycle of each student within their department, to proposing courses and changes, providing mentorship to junior graduate faculty and assuring fair and consistent compliance with CGPS policy. Grad chairs are members of the CGPS council and faculty and are therefore involved in the policymaking process of graduate students and programs.
Effective graduate student supervision requires complex interactions between graduate students and supervisors. The role of a supervisor is threefold: to advise graduate students, monitor their academic progress, and act as a mentor. Supervisors not only provide guidance, instruction, and encouragement in the research activities of their students but also take part in the evaluation and examination of their students' progress, performance and navigation through the requirements of their academic program with the goal to ensure that their students are successful. Supervisors are responsible for fostering the intellectual and scholarly development of their students. They also play an important role in providing advice about professional development and both academic and non-academic career opportunities, as they are able, and based upon the student's career interests. 
The Grad Student. We all know that without grad students, there is no grad…anything! Grad studies start with you. The most important relationship you are going to have throughout the course of your study is your supervisor.
Student: I have an issue, who do I talk to? Your first step is your supervisor. But my issue is with my supervisor… Then you need to talk to your Graduate Chair. Often the grad chair will work with the department head and/or Dean of your college/school to find a resolution. The CGPS will help your grad team navigate institutional policy after you have exhausted your department's resources – this is a last measure often after the problem has not been solved. 
Make sure you and your supervisor understand each other's expectations right at the outset of your relationship. Completing a required student supervisor agreement will help with this conversation.