Plug In To Your Graduate Community
Are you are new or returning graduate student in September 2021?

On behalf of our colleagues across campus, the College of Graduate and Postdoctoral Studies (CGPS) is excited to welcome you! As a grad student, you will become interconnected throughout campus and discover a new extended community. 

Hub info is organized by grad students for grad students with a strong thematic approach and the ability to choose your own experience with a couple of clicks. Get the information you need to know when you need to know it. 
Built on the framework of typical module-based content, you have access to take a deeper dive into the content within the Grad Onboarding platform by selecting specific modules that interest you in the Hub Lab. Come and go from the platform at your leisure throughout the lifecycle of your program. Not interested in modules - no problem, join a lab discussion group instead! Self-enroll and come back anytime.Our approach to introducing you to more in-depth knowledge of what USask offers you.
Self-register through Canvas (USask's learning management system).
You pick the modules that most interest you.
Hang around to join the specially curated discussion forums.
Leave the course whenever you want by 'unregistering'.
Change your mind? No problem, just re-register!

Plug in to your new community
Grad school is intense and requires a lot of studying, research and writing. Your time is valuable but remember, take time to take care of yourself, meet new people and have some fun.
Coming soon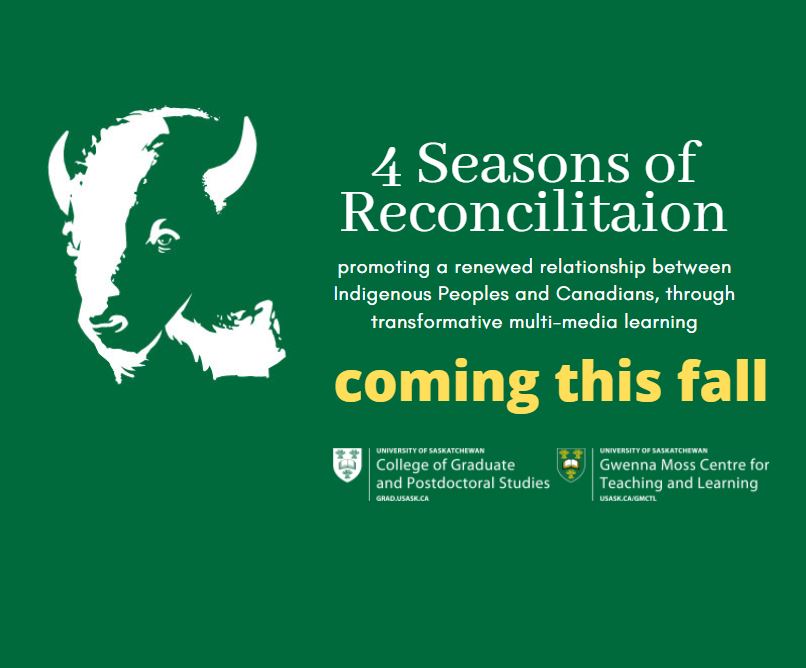 Through a unique partnership between the College of Graduate & Postdoctoral Studies and The Gwenna Moss Centre for Teaching and Learning, and in collaboration with the First Nations University of Canada, the 4 Seasons of Reconciliation course will be offered to all graduate students starting this fall.
We invite all students who want to embrace the teachings of manacihitowin (…translates to both Cree and Michif to "let us respect each other") to enroll in the 4 Seasons of Reconciliation course. It will be both a personal and professional development opportunity to learn about the Indigenous Peoples of Canada. You will learn about the many truths that are driving Canada's need for social justice, equality, healing, and reconciliation.
This facilitated 6-week, 10-hour course is an educational initiative designed for graduate students to become embedded as a member of a learning community; combining independent learning with group discussion; incorporating engaging materials like Indigenous stories, teachings, and conversations that we hope will inspire students to lead in this area of important work in your future careers. At the end of the course, all students will receive a certificate of completion.
Registration info coming soon!