Requirements
As you near the end of your degree there are several tasks you will be required to complete in order for you to successfully graduate. Make sure you begin planning for these tasks in the term before you intend to graduate.
In order to be eligible to graduate and participate in convocation, the student must:
Have met all program requirements within timelines;
Have the thesis (if applicable) successfully completed and defended and necessary documentation

 

electronically submitted (ETD)

 

prior to the stated deadline listed in the

 

Academic Calendar;
Be currently registered in the term in which program requirements were completed, including the defence and completion of necessary revisions to the thesis (if applicable);
Ensure all outstanding fees are paid to the University;
Apply to graduate - the deadline to apply to graduate is March 31 for spring and August 31 for fall;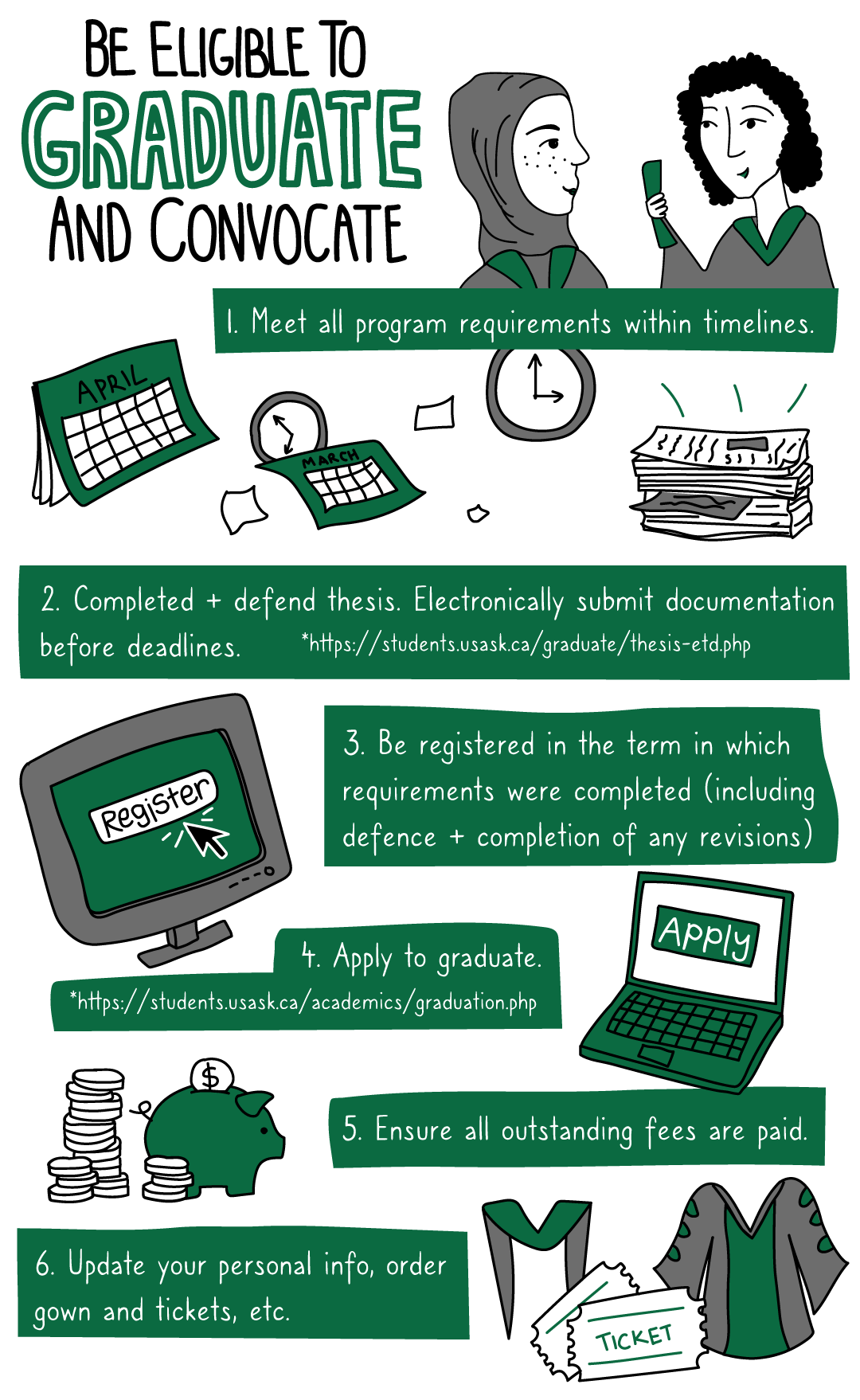 Completion of required tasks before their respective deadlines are the responsiblity of the student in order to be permitted to convocate on time.
Get Ready to Finish Your Grad Program
Thesis programs
It is important to observe the deadlines for the final submission of defence and program completion documentation to be eligible to graduate. In order to be eligible, the thesis upload to the ETD site must be complete, and all documentation relating to a student's completion of program requirements must be submitted to the CGPS. 
The deadline falls in mid-September for Fall convocation, and early to mid-April for Spring. The exact deadlines are listed in the academic calendar.
Course-based programs
If you are in a course-based program, apply to graduate and inform your department when you are complete so the proper paperwork may be forwarded from your department.
Awards recipients
If you are a current recipient of a graduate scholarship in a non-devolved department, please inform the Awards Office in CGPS when you will be defending your thesis. Students are financially responsible for any payments given in error.
"To Whom It May Concern" letters
A "To Whom It May Concern" letter, otherwise known as a completion of degree letter, may only be issued following receipt and review of all applicable program completion paperwork from the student's department and, confirmation of completion of degree requirements by the College of Graduate and Postdoctoral Studies. If you require a letter for visa or employment purposes, the CGPS may need advance notification, as requests for these letters are customarily handled in order of receipt. Please allow ample time for these requests to be processed.