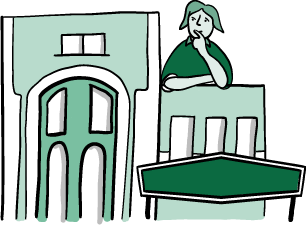 What is a graduate degree?
A graduate degree refers to an advanced level of education beyond the undergraduate degree that provides an advanced understanding of a specific topic, field, or discipline.
The learning environment in graduate education is drastically different from the experiences you may have encountered in your undergraduate studies.
Common characteristics of graduate education: 
Obtaining

advanced knowledge

that builds on your undergraduate education
Expectation to acquire and

apply

advanced analytical and interpretive

skills

Focus shifts from breadth, focusing on multiple aspects of a discipline, to depth,

focusing deeper on a particular topic

or area
It is scholarly because it is concerned not simply with the acquisition of knowledge and skills, but with the

critical analysis

of existing knowledge and the

creation of new knowledge
There are two main levels of graduate programs: Master's and Ph.D. 
Master's level programs require advanced-level thinking, where the goal is to advance the graduate student's subject knowledge and to develop the student's capacity for independent research. 
A Ph.D. program shifts towards even further independence as the student continues their program. A requirement of the Ph.D. is to provide a substantial, original contribution to knowledge. 
Graduate programs can be identified as follows: 
Terminal Master's degree: Master's degrees are considered terminal if the field does not offer a degree beyond the Master's. 
Postgraduate diploma (PGD): Can be earned after a Bachelor's degree to expand upon a student's field of knowledge. Is often used to ladder into a master's program. 
Doctoral degree: The highest level of academic degree in most fields. This term also captures the  Philosophical Dotorate (PhD) and doctorate (e.g. EdD or DMus). 
Programs can be: course-based, project-based, or thesis-based (research).
A course-based program results in acquiring advanced knowledge, skill, and experience to be proficient in one's field. These are common in professional degree-type programs, diplomas and certificates. 
A project-based program requires students to complete coursework and a final project, common in Master's degrees.
A thesis-based program requires students to design, collect, analyze, and interpret research findings and communicate this new knowledge in the form of a thesis. The expectations of discovery are different between the Master's and the Ph.D. level.
The next element of a graduate degree important to consider is the program's discipline. A program discipline shapes and often provides a particular lens in how a researcher views the novel data in front of them.
Finishing grad school is a big deal. It takes years of commitment, hard work, long hours and dedication. It is good to have career goals and options in mind. It is a common misconception that you can't start applying for jobs until you have your degree in hand. Many employers welcome applicants who are still working on a degree. You are a 'fresh talent'. Here are a few tips:
Leverage your grad school professional network
Attend job fairs
Start your search with websites like HigherEdJobs, GlassDoor, LinkedIn
The job market is competitive - your first job out of grad school does not have to be your career
Prepare and research for each opportunity
Talk to USask's Career Services Team. They are here to help.
Why do people enroll in a graduate degree program?
The motivators to pursue a graduate education vary by student. Some examples include:
pursuing a specific career (e.g., Speech Pathology, Counselling, Nurse Practitioner, MBA) that requires a professional graduate level of study to advance;

pursuing a career in research through academia or industry;

desire to continue learning or gain experience in research;

gain skills and experiences to support their overall development.
Career trajectory of graduate school
Want to learn more about graduate studies?
The decision to pursue a graduate education will have a big impact on your life. To help you in deciding if you want to pursue a graduate education, learn more about graduate education, and discover which program would be a good fit for you, there are different services available at the university you can approach:
Career Services
Explore potential career options

Build skills in preparing for your career 

Develop a deeper understanding of yourself
Program's Department
Learn about the skills you would gain from the program

Explore what learning opportunities you would gain

Discover potential career options possible from the program
Recruitment
Learn more about the university and different programs available

Receive support in how to apply and what is required of you