Buildings & landmarks
The Bowl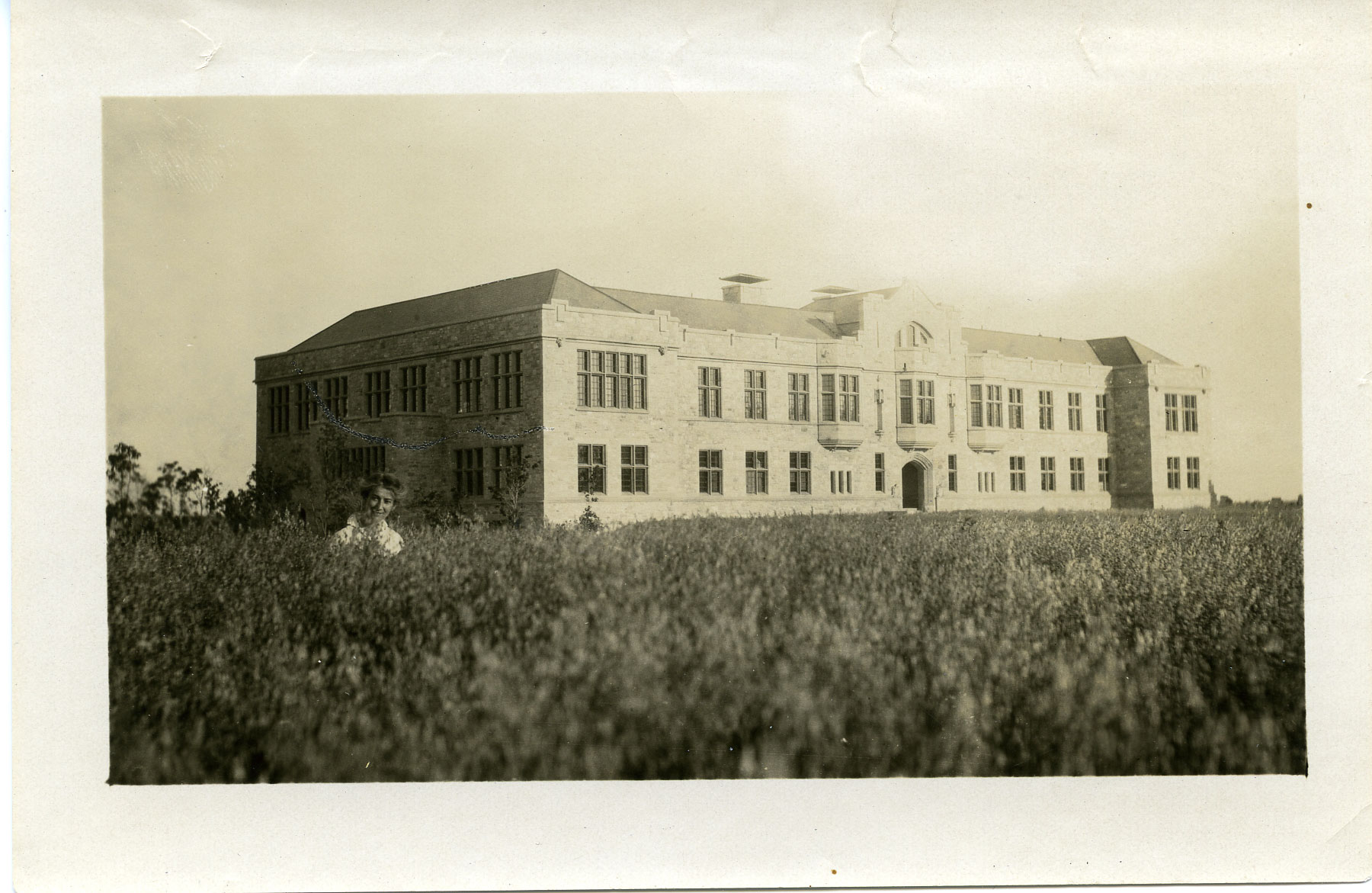 This image (University Archives & Special Collections, A-5450. (Patrick Hayes) depicts an unidentified woman standing in a field of oats in the late summer of 1913. That field is what would become known as the Bowl. The oats were harvested and the following year the area was planted in grass.
The bowl has always been the heart of the University of Saskatchewan campus. It was not until 1923 that the oval was excavated to give it its present bowl-shaped contours. 
Though the shape has remained the same, the look of the bowl has changed with the addition of surrounding buildings and the planting and removal of various trees, shrubs, and plants. For example, at one point there were a number of fir trees, almost a mini forest, in the northeast corner.
The bowl is USask's central landmark that will help you navigate around the entire University! Visit a few of the most iconic buildings on campus with the bowl right at the heart of it all!
Tunnels & skywalks
Did you know that the university has 1.5 kilometres of tunnels and skywalks around the Bowl that connect more than 20 buildings? So it doesn't matter if it's cold outside; you can still walk around campus. 
Tours
Looking for other tour options including tours for younger students, community groups or individuals or families visiting USask for personal interest?
Check out tours and other educational programming offered through these organizations on campus:
Get connected
Computer Labs & Printing
Can't get to the lab?

Access the virtual computer lab. Virtual Computer Lab enables students and faculty to access applications from their personal laptop or computer from home. Please review the instructions and list of software available here. If the software your students need is available, instruct them to access it at https://vlab.usask.ca/. Any files saved while using Virtual Computer Lab will be stored on the student's Cabinet, which can be accessed through PAWS under My Files.
Use a computer kiosk
Aboriginal Students' Centre – Room 220 in the Gordon Oakes Red Bear Student Centre
Indigenous Students' Centre Lounge – 56 McLean Hall
Language Centre Lounge –  Room 350 in the Williams Building
Student Central in the Administration building
Global Commons in Lower Place Riel
The tunnel between the Arts Building and Place Riel.
Computer busted? Get a loaner!

Students in need of a loaner computer may be able to borrow a USask computer.  Please contact IT Support Services to confirm names and NSIDs of students in need. IT Support can be emailed at itsupport@usask.ca. You may add a ticket https://itsupport.usask.ca/, or call 306-966-2222.
Need to print something?

You can print, scan, and photocopy documents at the university provided printers. You can also print from your laptop using the wireless network or a wired port.
Add money to your printing account through PAWS.
Transfer printing credit
Check account balance
Check transaction history
Check printing balance
PAWS
PAWS is the centre of USask's universe. PAWS, your personalized access to web services at the University of Saskatchewan (USask), is a customizable web environment used by all students, faculty, staff, alumni and other members of the university community. PAWS is where you'll access class registration, tuition and fees, scholarships and bursaries, textbooks and more.
After you have been admitted, use PAWS to update your profile with the university, including your preferred name, email aliases and contact information.
---
Navigating PAWS
Printing
USask | An Accessible Campus
Inclusivity
All members of our campus community are encouraged to acknowledge diversity and create safe spaces on campus. Use USask's online map to find gender neutral washrooms, accessible entrances and parking and so much more.