USask 3MT® Prelims

All University of Saskatchewan graduate students who are enrolled in a Master's or Ph.D. graduate program and in good standing are eligible to compete in the USask 3MT® virtual preliminary event for a chance to present at the finals.
March 13-17 | Virtual 
3MT® Preliminaries
The 3MT challenges higher-degree research students to communicate a compelling oration on their thesis and its significance in just three minutes to an audience of non-specialists. Helping graduate students develop skills in translating their research and its impact for non-specialists is an essential skill for many reasons:
Funding proposals
Transitioning into employment
Generating interest in, awareness of and support for academic research
Communicating with confidence and clarity to a diverse audience
Grad students also tell us that while they are developing their 3MT talk it helps them unpack research roadblocks, helps to refocus their energy and contributes to finding a revitalized passion for their thesis topic!
In a new format to USask, the 3MT® communication challenge starts with the preliminary virtual competition from March 13-17, 2023. Competitors' videos will be adjudicated by a panel of communication specialists throughout the week. An announcement will be made on March 27th of who is moving forward to the finals.
Meet our Prelim Judges
Stan Yu

Research and Communications Coordinator, Canadian Centre for the Study of Co-operatives
Johnson Shoyama Graduate School of Public Policy

Shannon Boklaschuk

Communication Specialist
Office of the Provost and Vice-President Academic

Jill McMillan

Learning Specialist, Graduate Writing Specialist
University Library

Rob Blizzard

Manager, Digital Strategy (Strategic Communications)
University Relations
3MT® Finals

USask's 3MT® Finals feature up to twenty of the best presentations selected from the virtual preliminary event.
Tuesday, April 11, 2023

2-5 pm (CST)

In Person at the 
GSA Commons, USask Campus
Meet the 3MT Finals Team
Ryan Walker | Host

Associate Dean, Policy & Programming, College of Graduate & Postdoctoral Studies | Professor, Geography & Planning, USask

Alastair MacFadden | Master of Ceremonies

Interim Director, JSGS USask Campus; Director and Executive-in-Residence, JSGS Executive Education
USask

Heather Perrson | Judge

Chief Communications Officer and Associate Vice-President, Strategic Communications
USask

Zsuzsa Papp | Judge

Director, Business Development, Mitacs 

Antonia Powell | Judge

USask Alumni, 2022 3MT Western Regional & USask Champion

Tate Cao | Judge

La Borde Chair in Engineering Entrepreneurship & Assistant Professor Ron and Jane Graham School of Professional Development, USask
Finalist Next Steps
Finalists, the 3MT event team will be reaching out to you shortly after March 25th to provide all the logistical details you are going to need for the finals. Now is your chance to:
Revise the title of your talk
Revise your slide
Practice!
Live Stream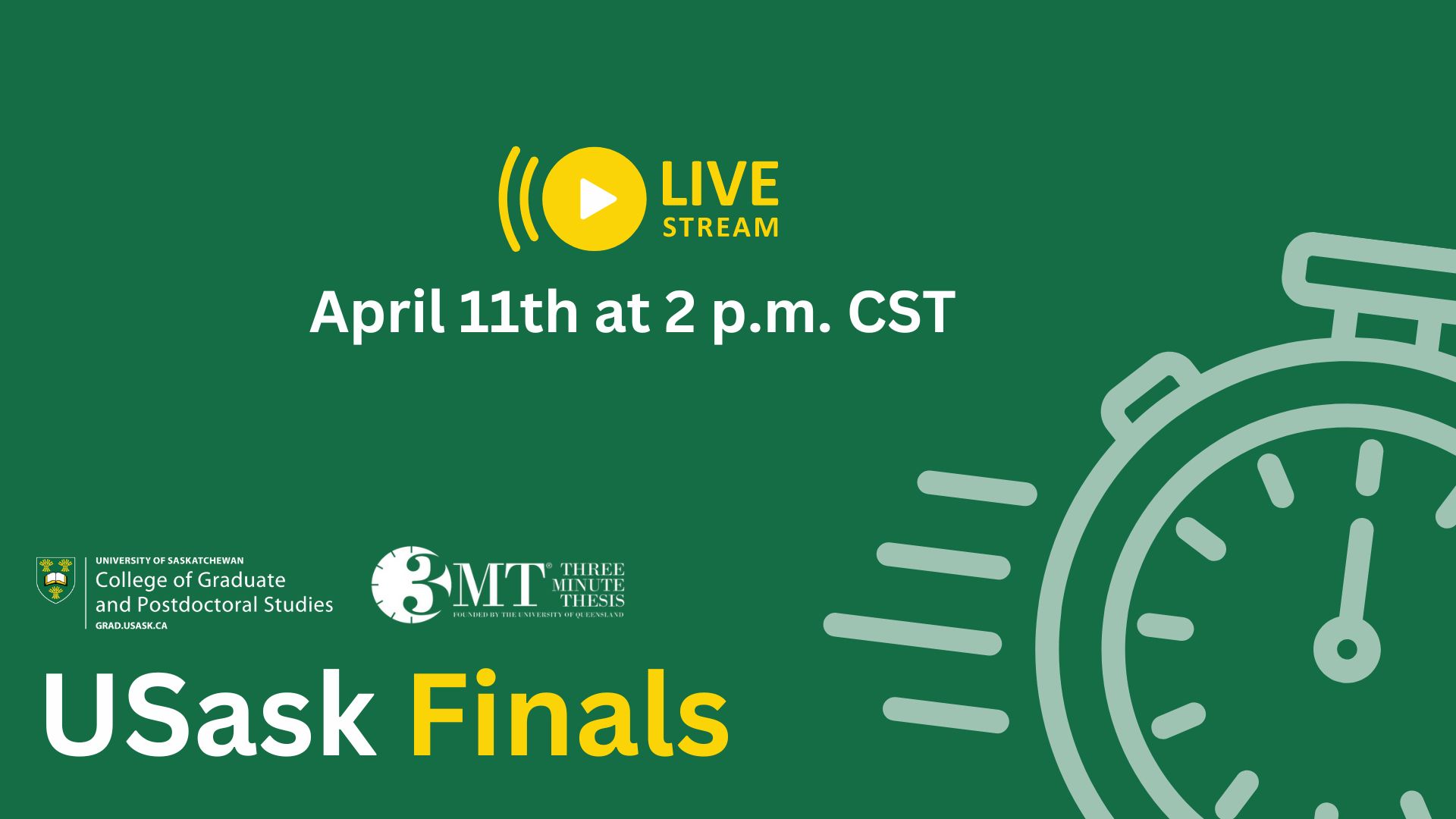 People's Choice
The winner of the People's Choice Award is up to You! Support USask's graduate students by casting a vote for your favourite presentation – it's easy.
Ballot will be available April 11th.
Tips & Tricks
2022: Antonia Powell
Conquering a Cereal Killer

USask Champion
Western Regional Champion
National Showcase Guest

Tell a Story.

Engage your audience with more than just facts and figures. "Not one, but all of my professors would reiterate the importance of telling a clear story, whether it is for a term paper, an elevator pitch, a brief talk, or presenting your work," says Powell.

Regardless of who you're talking to, they can understand your research better if they can follow along with the journey of how you got there. Give this tip a try with your own research by creating a clear outline of a story with a beginning, a middle, and an end.

 

Take Advantage of Resources.

When it comes to communication, there's always room for improvement. Powell's advice? "I would suggest to any student looking to improve their presentation and communication skills to make use of the resources available at the university."

USask offers resources for grad students through the University Library, Career Services, the Gwenna Moss Centre for Teaching and Learning, and even the College of Graduate and Postdoctoral Studies' own Grad Hub.

Practice, Practice, Practice!

The key to improving any skill is to simply do it more often. Powell suggests reaching out to new audiences and always looking for opportunities to present your research, "Listen and learn techniques of what to do and what not to do from others who are great presenters."

Practice telling your story to friends, family, lab mates, and colleagues. Consider presenting your research at local competitions hosted by your college or the GSA. Keep an eye out for upcoming conferences and seminars by following on social media, like on the CGPS Twitter and Facebook pages.