STATS
Tri-Agency 2022-23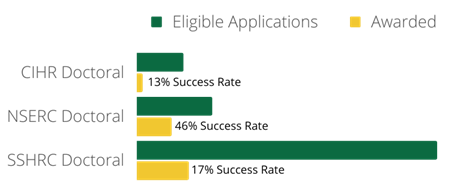 A total of 73 applications were adjudicated for the CGS-D competition; 8 CIHR, 13 NSERC, 53 SSHRC; of which a total of 16 scholarships were awarded.

 A total of 131 CGS-M scholarships were eligible of which 45 were successful. 
---
Students who applied for a Tri-Agency Doctoral scholarship, and were adjudicated to compete at the National level, but were not successful, were automatically considered for a Dean's Doctoral (Domestic) Scholarship; of which 10 were awarded.
 
Winter 2023
Of 17 competitions held during the Winter 2023 cycle (after the Reimagine Funding implementation), a total of 651 applications were received with 179 being successful; or a 27.5% success rate of which 43 identified as men, 98 as women, 2 as non-binary, 1 as undisclosed.
ESL Bursaries = 91.5% Success Rate
The ESL Bursary for International Students is a support program for international students who are registered in a full-time graduate program at the University of Saskatchewan and who would like to strengthen their English language skills by taking a course offered through The Language Centre.